Excel allows you to group rows (or group columns) so that the user can collapse the group and it from showing in the worksheet and expand it whenever needed.
For example, if you have a data set where you have different stores and the sales value of different products in that stores, you can group all the product names together as a group that can easily be hidden, and if needed the user can easily expand it to see the details.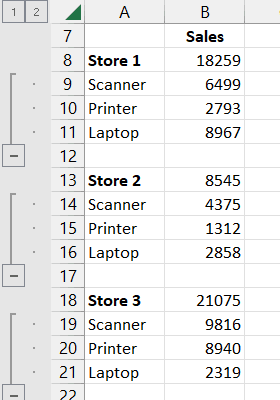 In this short tutorial, I'm going to show you a very simple keyboard shortcut you can use to group rows and columns. and I would also tell you how you can use another keyboard shortcut to ungroup these rows and columns.
Shortcut to Group Rows or Columns in Excel
Below is the keyboard shortcut to group rows or group columns in Excel:
ALT + SHIFT + Right Arrow Key
How to Use the Keyboard Shortcut to Group Rows or Columns in Excel
Below are the steps on how to use the above keyboard shortcut:
To group rows, select the cells in the column that you want to group together (note that these cells need to be contiguous, and cannot be non-adjacent, i.e., you cannot select multiple ranges)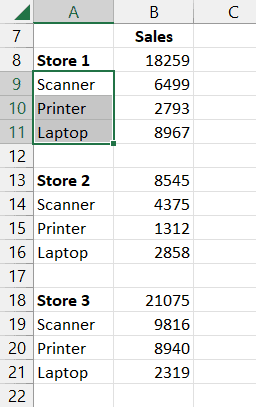 Hold the ALT and the SHIFT key, and then press the right arrow key
In the group dialog box that opens up, select rows and then click on OK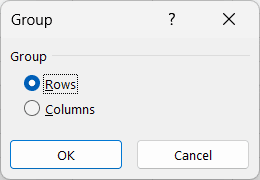 The above steps would group the cells that you selected in step one together by grouping the rows.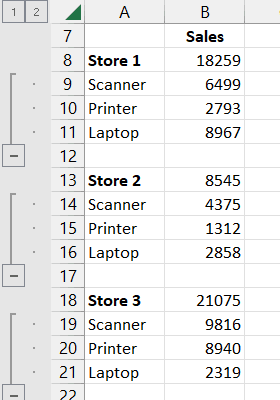 The same steps can also be used to group columns with the same keyboard shortcut (where you need to select cells in a row rather than in a column)
Alternate Methods to Group in Excel
You can also group rows and columns in excel by using the option in the ribbon.
Below are the steps to do this:
Select The cells that you want to group
Click the Data tab
Click on the Group option
This will again open the same dialogue box that is opened by our keyboard shortcut.
Important things to Know when Grouping Rows/Columns in Excel
Some important things you should know when using the keyboard shortcut to group rows and/or group columns in Excel:
You select entire rows instead of selecting the cells, and then use the above keyboard shortcut, you will not see the group dialog box. the keyboard shortcut would instantly group the rows or the columns if the entire rows/columns are selected
To ungroup the rows or columns once they have been grouped, you can use the keyboard shortcut ALT + SHIFT + Left Arrow Key
Other Excel shortcuts you may also like:
Other Excel articles you may also like: