When you open an Excel file online, you will find a new workbook automatically displayed. The workbook contains various worksheets that hold actual data and information.
Initially, the workbook opens up with three worksheets, but you can add and delete worksheets whenever you want.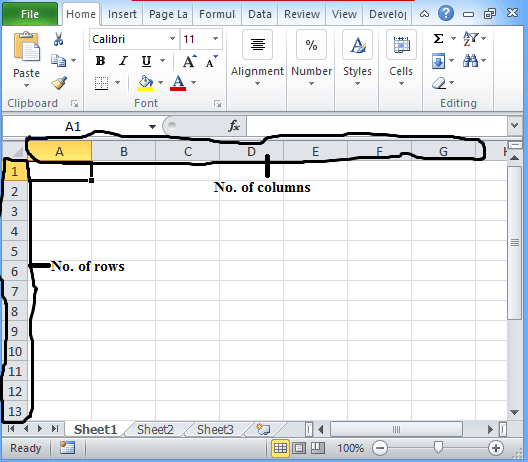 Depending on the Excel version, you will find different types of screens and interfaces. Microsoft Office has different kinds of interfaces that vary from Office 2003 to 2007 to 2013. Microsoft Office looks cleaner than other versions.
Open Excel File Online
To open Excel xlsx and xls file, you need to follow the below-mentioned process.
Press the start button.
Select the option "All Programs".
Look for the Microsoft Office and click on it.
Find Microsoft Excel in the submenu and click on it.
After clicking on it, you will find an excel window with a grid format.
Also read: Excel Crashes When Opening File – Reasons + Fix!
How to create a spreadsheet in excel?
To create a spreadsheet, you need to open the excel file.
You will notice rows and columns where every column consists of the capital letter and every row consists number.
Every cell is identified by a unique address. Like in this image the name of the selected cell is B2.
Whenever you click any cell, its address appears just above column A.
To enter the data, type the Student name in the column first.
In column B, Maths is the second field.
In A2 enter the name of the student whereas in B2 enter its marks.
Repeat the same process again to create a table.
Similarly, enter the details of 3 students.
In the 4th column, you need to calculate the total marks of every student by applying excel formulas basic sum function.
To calculate total marks, you need to apply excel formulas sum.
Now save the file.
Go to the File menu, click on the file, and then save as option.
How to enter data in Excel?
If you want to enter data manually, then you need to follow the below-mentioned process.
Choose any cell and enter any text or numbers inside it.
After this, you need to press enter to go to the next cell.
How to add worksheets in excel?
To add more sheets in excel, you need to open excel.
In its below tab, you will find three sheets with the name Sheet 1, Sheet 2, and Sheet 3.
If you want to add another sheet then just click on the icon highlighted in the image below.
Automatically you will find that your worksheet has been added.
How to delete worksheets from excel?
If you want to delete any worksheet from your excel then you need to right-click on the particular sheet.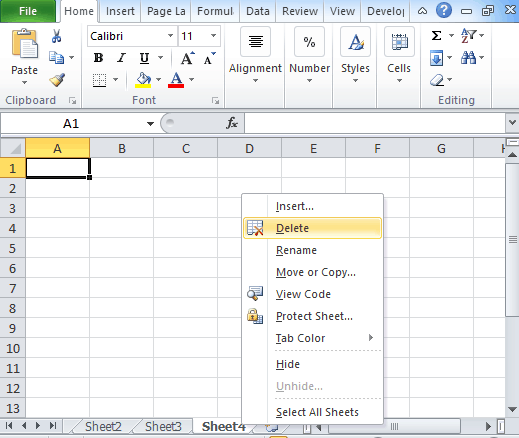 From the list, you have to click on the delete option.
Soon after clicking on the option, you find that your particular worksheet got deleted.
So in this article, we covered how to open Excel files online for free.
Other Excel tutorials you may like: